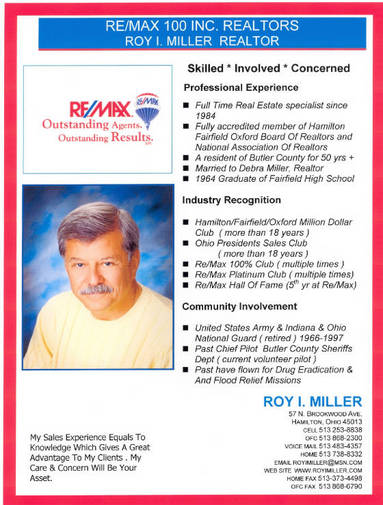 MY NUMBERS SOLDS IN RECENT YEARS PAST !

Year Sold Properties Sold Sold Value Amount

2008 50 $ 8,117,000
2007 67 $ 8,430,000
2006 52 $ 6,310,000

Total Properties sold since 01/01/2000 587 properties

The above sales were in (but not limited to) the following counties:
Butler Hamilton
Clermont Clinton
Warren Preble
Montgomery Highland
Adams County
If A buyer/seller want my services in a new area, I take
all the time necessary to research and learn that area.

If you have a property to list in any other area or want help in finding another property and any other part of the world, I go to the Re/Max Rooster of Realtors and research for a Realtor in the area needed. I look for an aggressive Realtor with an extensive sales background and then refer that person to you. In other words I cut out the guess work for you. Believe me it is much better than just calling out of the phone book or finding someone who just happened to advertise in the local paper of that area.

Experience is what you indirectly hire when you chose a Realtor. It can only be achieved by years of hard work applied to your trade.
Enthusiasm is what makes that experience work properly for you. Without the experience even great enthusiasm can make many mistakes that can be costly for you.

Debbie and I have 20 years working together helping the many clients and friends in one of their most important financial decisions. Individually we each have more than 20 yrs learning real estate and all that it involves.